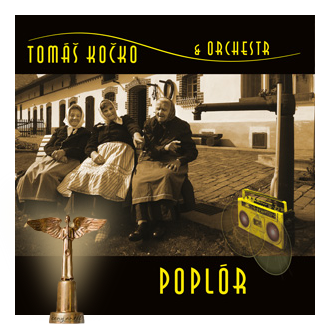 Tomáš Kočko & ORCHESTR
Poplór

(C) & (P) Indies Scope 2006
In Czech language, we have a world FOLKLORE, used in a meaning of traditional folk music.
We have replaced the word Folk (German people) with the word Pop (Latin populus - people) as a reflection of the fact, that current "traditional" music used to be pop music in its days.
This album have won the ANDĚL award 2006 and it was successful in TOP 20 of European World Music Charts 2006.
1. Česká (lidová, úpr. T.Kočko) - 4:10
2. Moravská (lidová, úpr. T.Kočko) - 5:12
3. Polská (lidová, úpr. T.Kočko) - 2:02
4. Srbská (lidová/T.Kočko) - 8:00
5. Ruská (lidová/T.Kočko) - 4:00
6. Slezská (lidová, úpr. T.Kočko) - 3:47
7. Severská (T.Kočko/T.Kočko) - 6:03
8. Pohanská (T.Kočko/T.Kočko) - 7:46
9. Beskyd-Ska (lidová, úpr. T.Kočko) - 4:38